November 28, 2018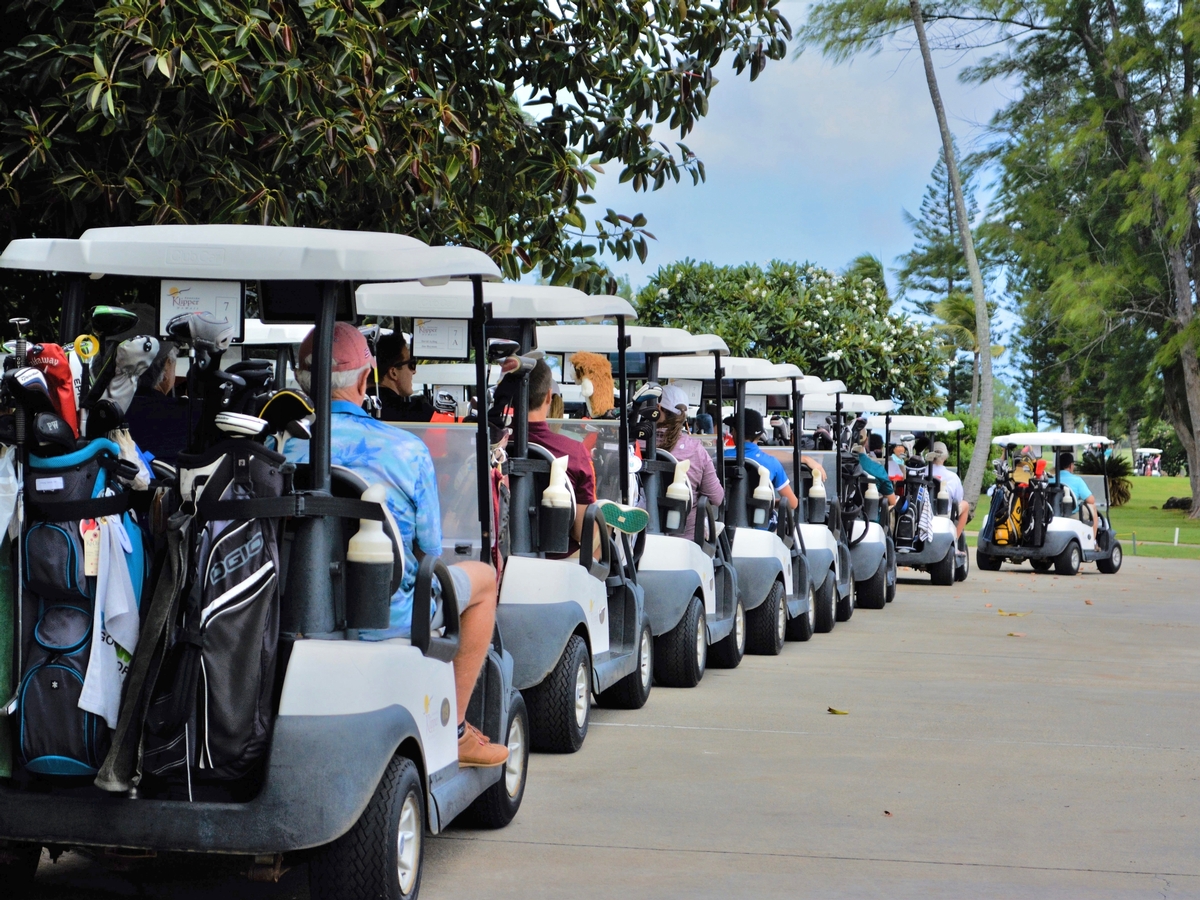 Written by: Coach Chong, Photos by students Kaley '20 and Jamie '20.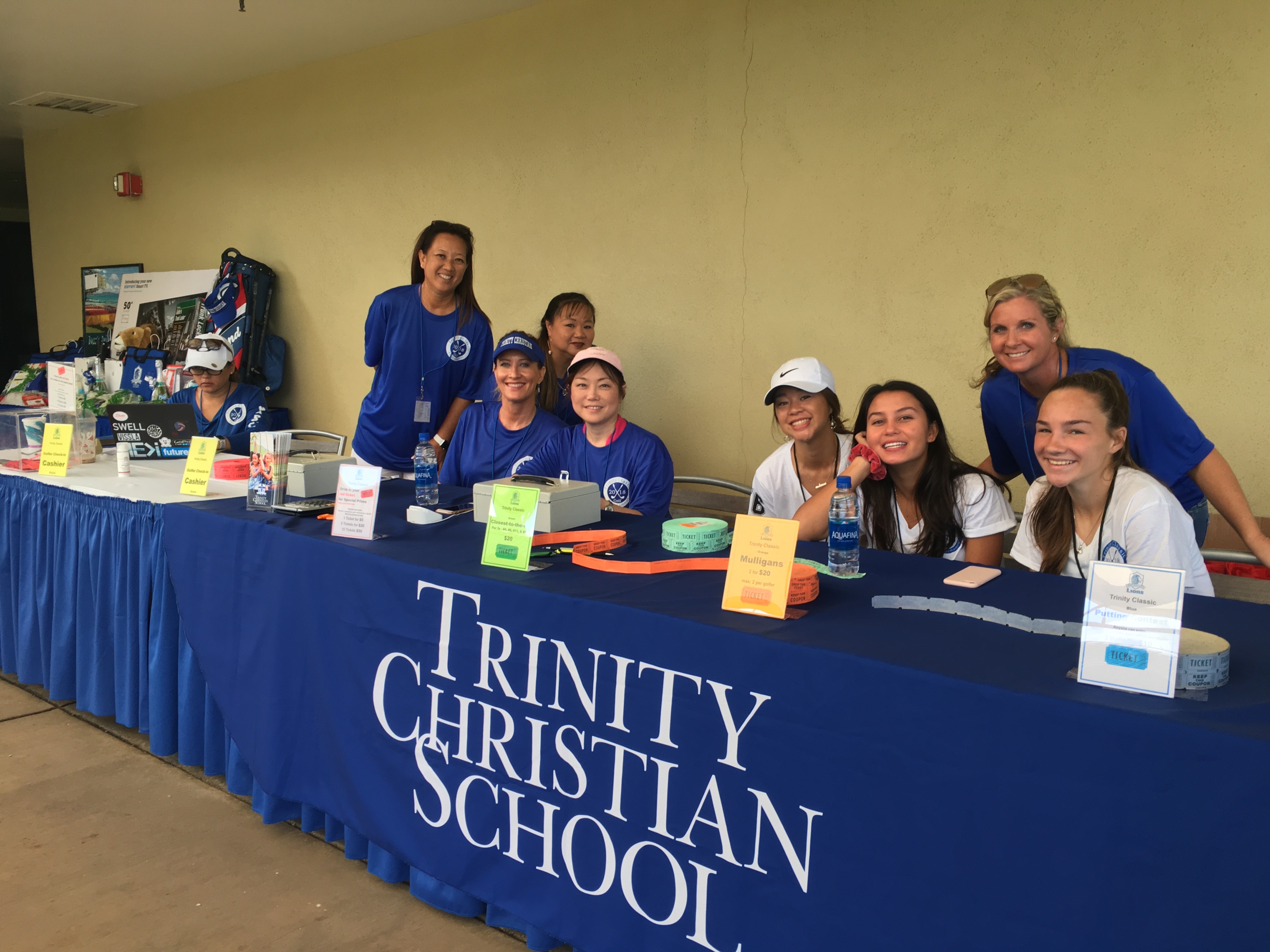 What is the recipe for a golf tournament to benefit the Trinity Christian School athletic department?
2 gold, 1 silver, and 2 bronze sponsors
4 hole-in-one prizes, including a 2019 Honda Civic, plus more than 100 other prizes from various supporting companies, organizations and individuals.
112 golfers on 28 teams in 56 golf carts playing one of the most scenic golf courses in the U.S.
more than 120 goodie bags
30 cases of bottled water
good weather after a couple of downpours
About 20 volunteers comprising of school Admin, faculty, students and parents, some who showed up at the golf course at 6:30 am
Several student photographers to capture the event for posterity
Bento lunch and impressive dinner buffet
Very patient and helpful staff from the Klipper Golf Course, Samuel Adams Grill, and Marine Corps Base Hawaii
And, last but not least:
A committee of 9 persevering parent volunteers with a vision, who dedicated hundreds of hours over 13 months seeking team entries, sponsors, donors, and prizes.
The TCS athletic department and its student athletes extend a big MAHALO to the sponsors, golfers, and volunteers who made the Inaugural Trinity Classic Golf Tournament possible. Although no one won any of the hole-in-one prizes, all the players and volunteers enjoyed the camaraderie at the event, which was held November 21 at the Klipper Golf Course at Kaneohe Bay. The event raised approximately $15,000, after expenses, for our TCS athletic department.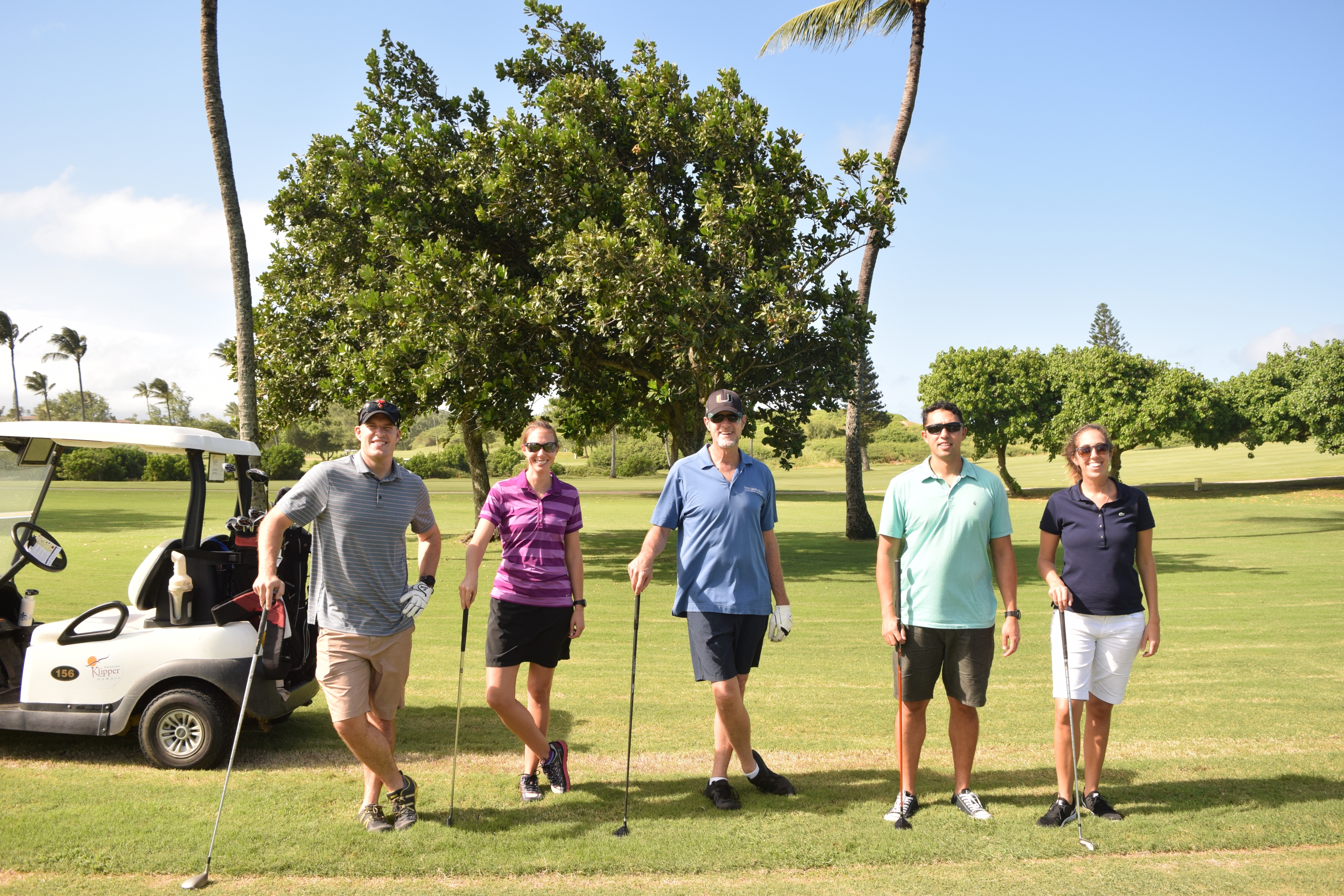 Highlights included:
Myles Nellans as the youngest player in the tournament
Parent Gregorio Tiburcio as a last-minute sub who rented golf clubs from the golf shop just minutes before the shotgun start.
Prayer before the shotgun and the awards banquet by Pastor Todd Capen.
TCS Business Manager Corinne Alonzo for winning the incentive prize for a round of golf for three at O'ahu Country Club.
The TCS Faculty team winning four rounds of golf at Mililani Golf Course. The team consisted of Mark Brians, Eric Fugitt, Joshua McCroskey, and Ben Moore, and were sponsored by Hensel Phelps.
In December, the committee will announce the date and the location for the 2019 Trinity Classic Golf Tournament, which will feature more contests and more prizes. Stay tuned to the Trinity Tabula for details.
We'd like to encourage anybody from the TCS 'Ohana to join the golf tournament committee. Several of the current committee members are parents of graduating seniors and will be cycling off the committee in the next few weeks. If you're interested in volunteering, please email golfevent@tcskailua.net.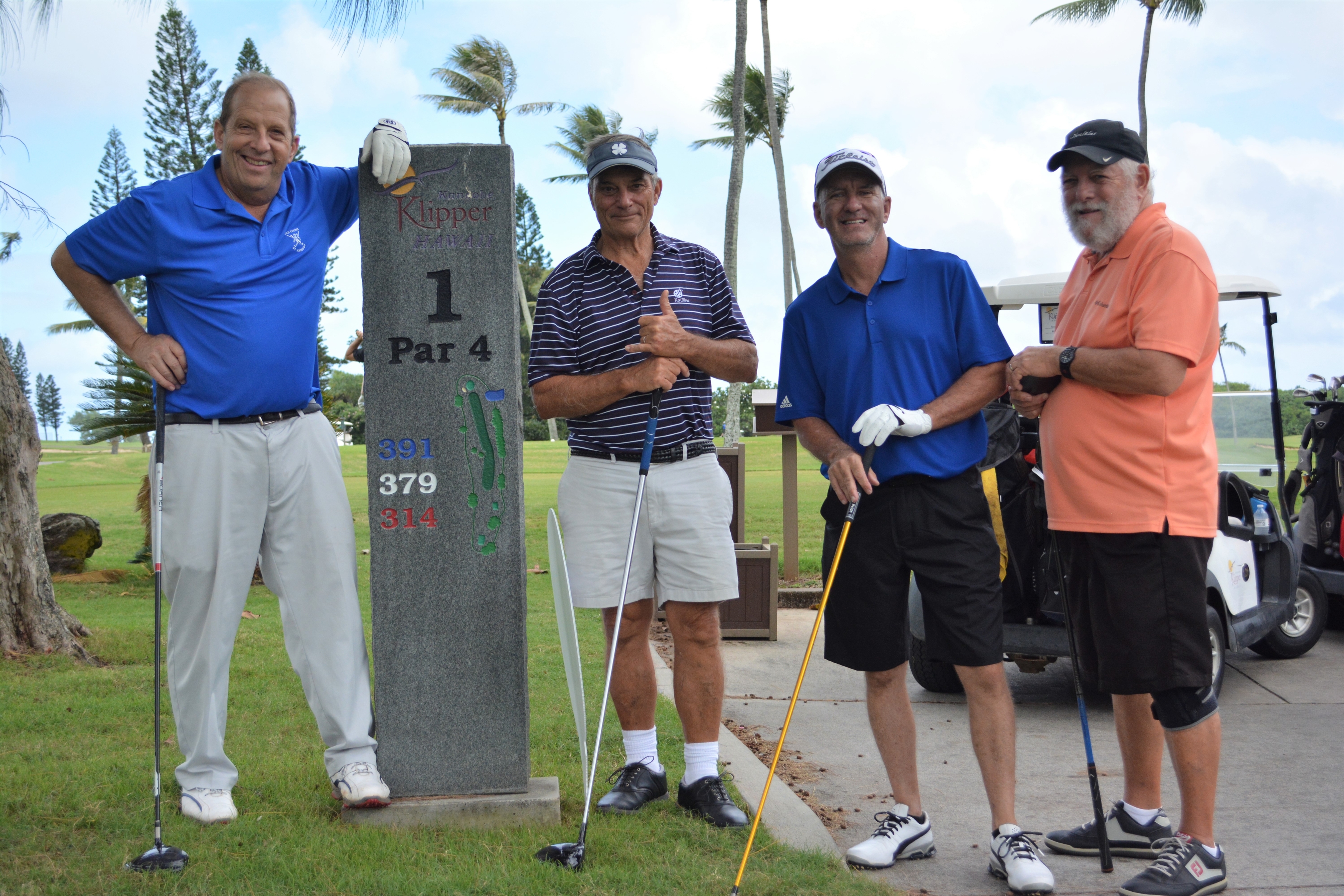 There are many to thank for working on this endeavor:
Gold Sponsors: Hensel Phelps * Oral Surgery Hawaii
Silver Sponsor: Inspire Church in Waikele
Bronze Sponsors: Belfor * Dr. Rodney Marshall
Hole-in-One Sponsor: Honda Windward
Tee Sponsor: FACTS
Special Thanks: Klipper Golf Course at Kaneohe Bay
Cash Donors: Sandy & Corbett Kalama
Prize Donors: Bayview Golf Course | Belfor | Big City Diner | Buzz's Steakhouse | Castillejos Family | Deacon David Chung | Consolidated Theatres | Roger Dunn Golf Shop | Egan's Bootcamp | Glow Putt Windward Mall | Hardware Hawaii | Jill Hunter | Kualoa Ranch | Lanikai Bath & Body | Leong Family | Lion Coffee | Bruce Nagel Tennis Academy | Nico's Kailua | Bill Comerford & Fred Remington – O'Toole's Irish Pub * Papa John's | Pint Size Corporation | Ruth's Chris Steak House | Safeway | Sea Life Park | Teddy's Bigger Burgers | Walmart | Abraham "Abe" Webb | Jeanne Wilks – Cabi | Zippy's
Faculty, Students, Parents & Friends: Corinne Alonzo | Linda Kawakami | Vicki Leong | Jeanne Wilks | Lisa Lim | Rob Lim | Nancy Keegan | Bill Burkhalter | Brittany Lum | Kaila Baker | Lauren Baker | Haley Bakey | Taylor Bakey | Kelsie Bothof | Karley Kimitsuka | Brandon Lawrence | Caitlin Lawrence | Noah Leong | Micah Litsey | Jesse Makuakane | Kaley Nellans | Jamie Sagami | Bron Scott | Greg Tiburcio | Jackson Henry | Kanoa McLaren
Tournament Committee: Carole Chong | Andy Baker | Ruth Baker | Kristin Bothof | Jack Henry | Patty Kimitsuka | Homer Leong | Lee Leong | John Nellans
We apologize for any inadvertent omissions.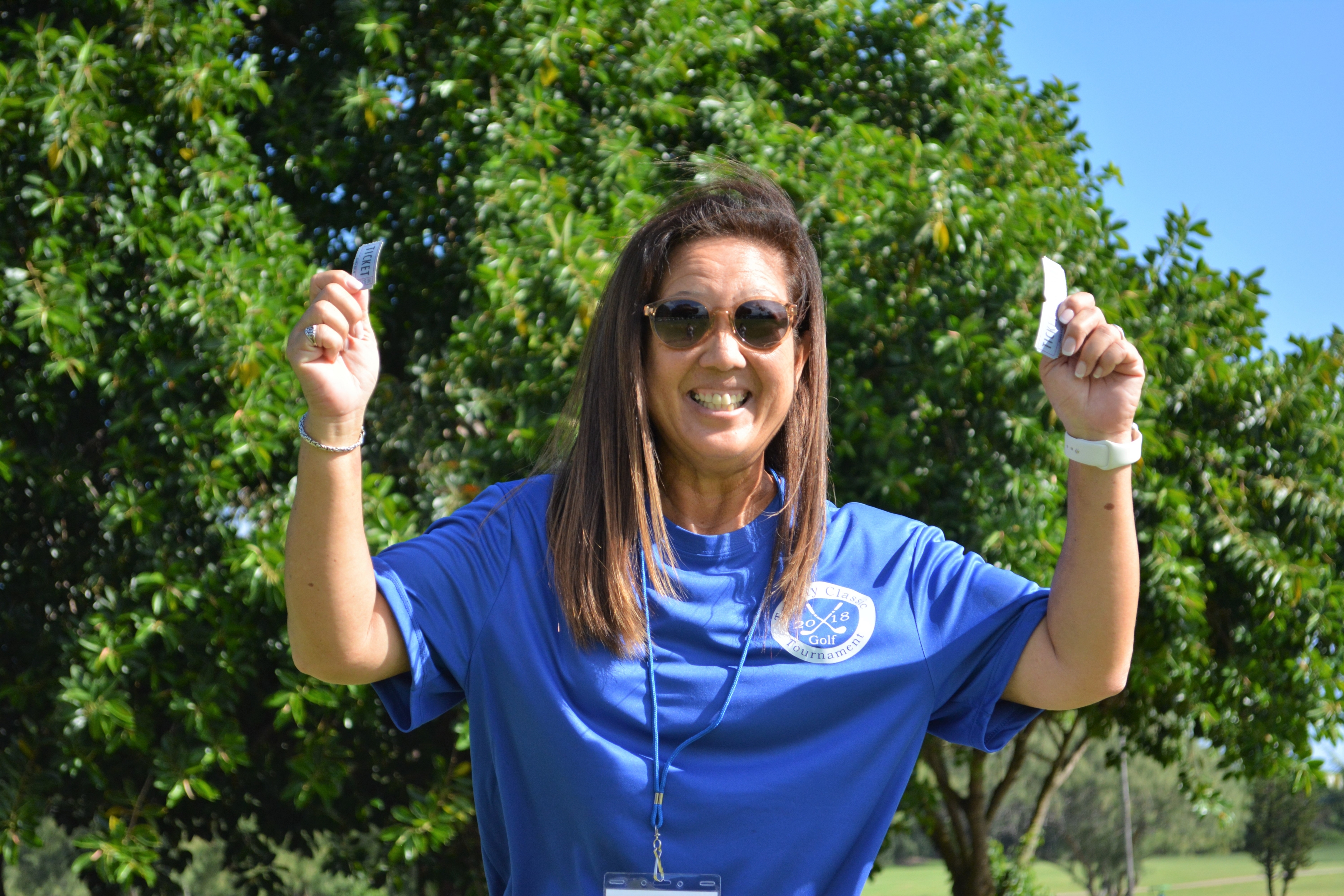 ---
"With God, all things are possible."—Matthew 19:26
Thank You Jesus!
---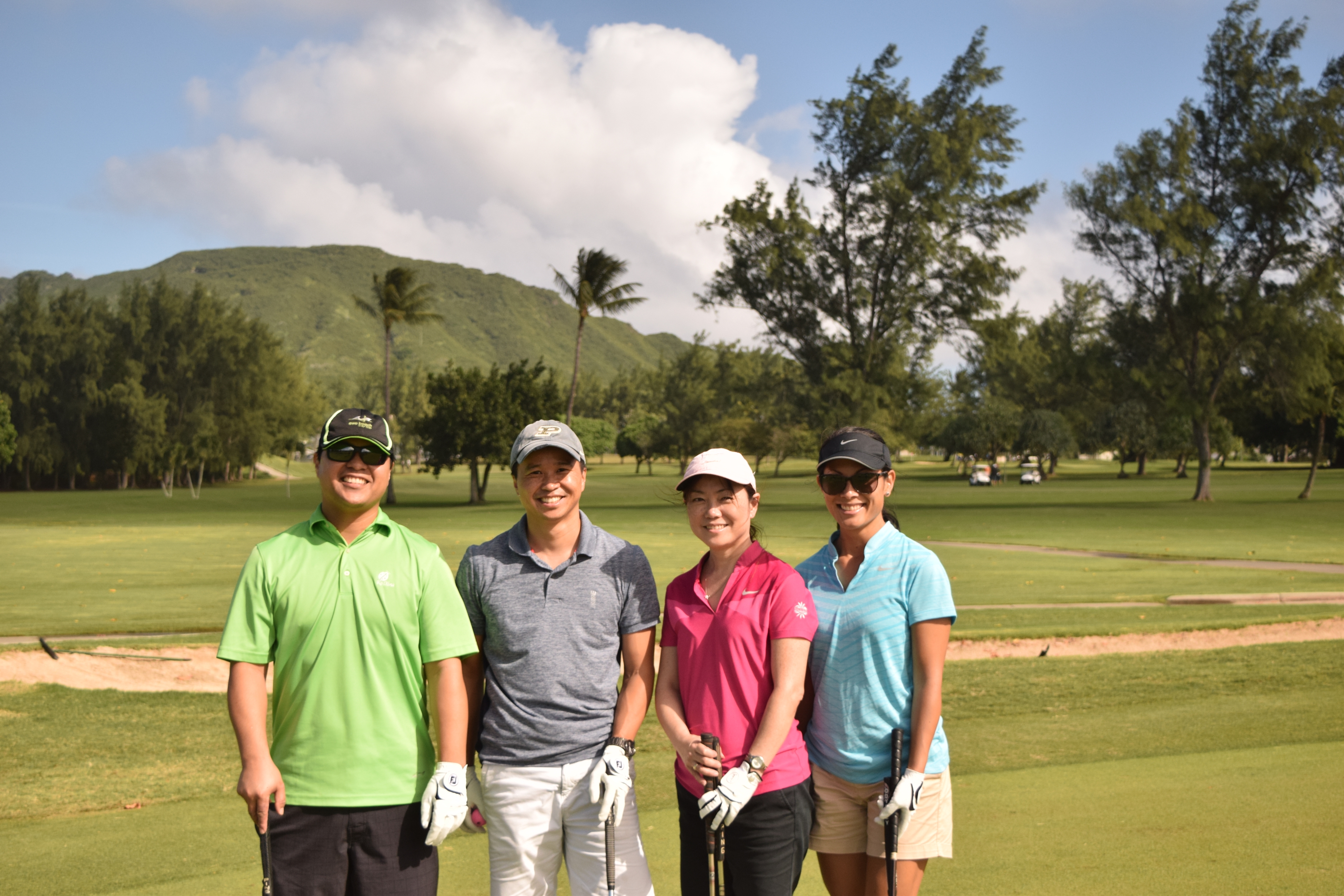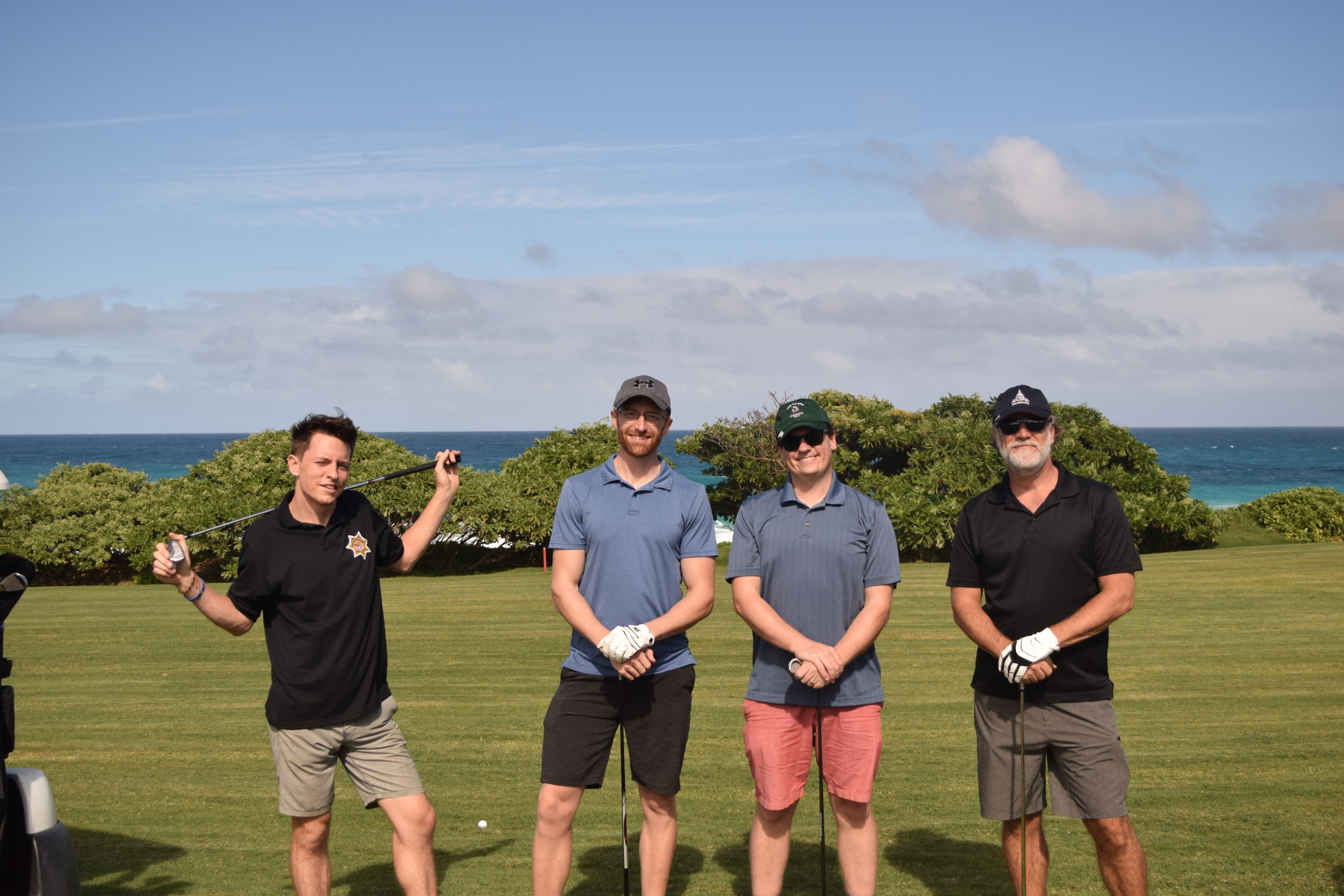 October 31, 2018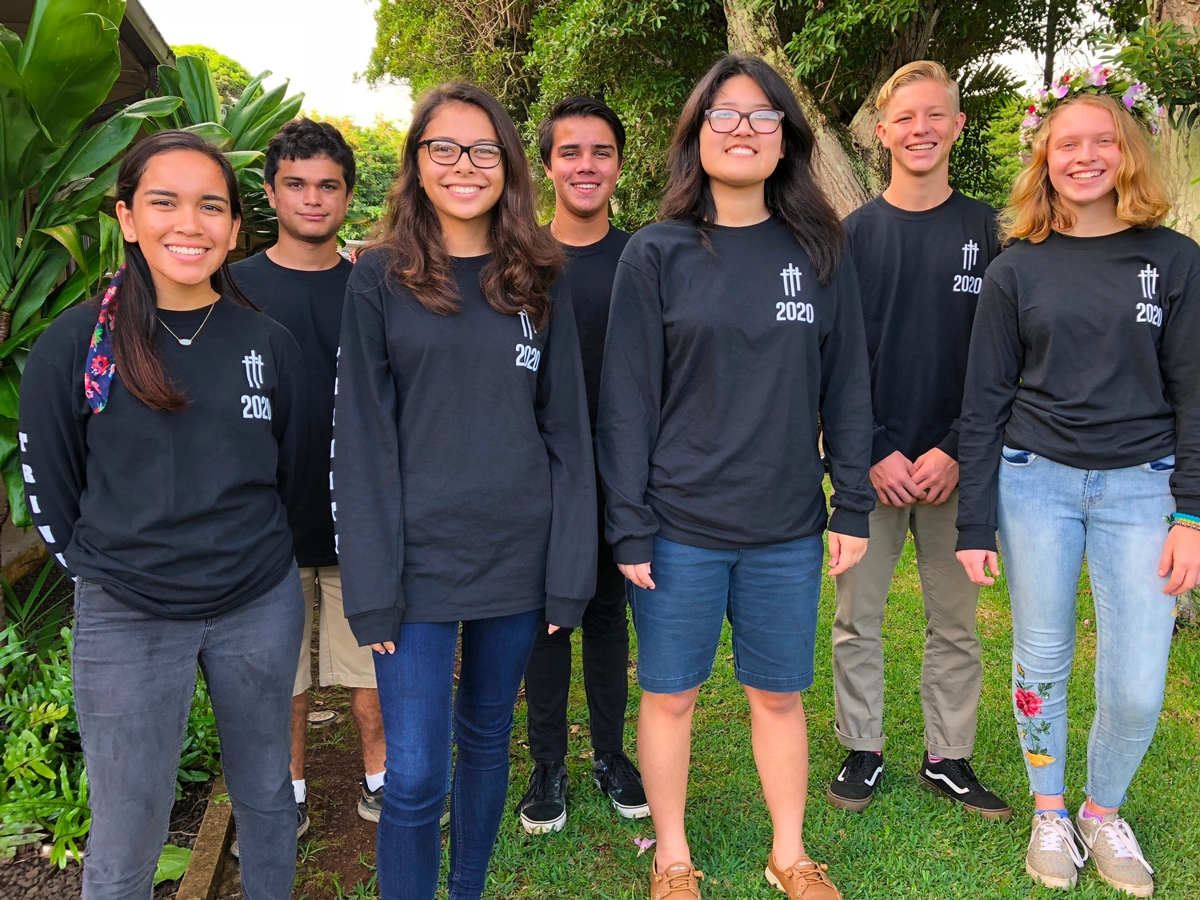 Written by Nancy Keegan
For I know the plans I have for you, declares the Lord, plans for welfare and not for evil, to give you a future and a hope. Jeremiah 29:11
Though we typically think of the college process as a junior/senior year topic, it's actually better to get our students thinking about college as early as freshman year. The information and questions a 9th grade student may have is going to be very different from a 12th grade student. A high school freshman's main concern when thinking about college may be, "Will I like my roommate?" or, "Do they have a Division I volleyball team?" Ultimately, we want our 9th grade students to be curious about college and appreciate that they are working towards building a strong transcript that will shine on college applications.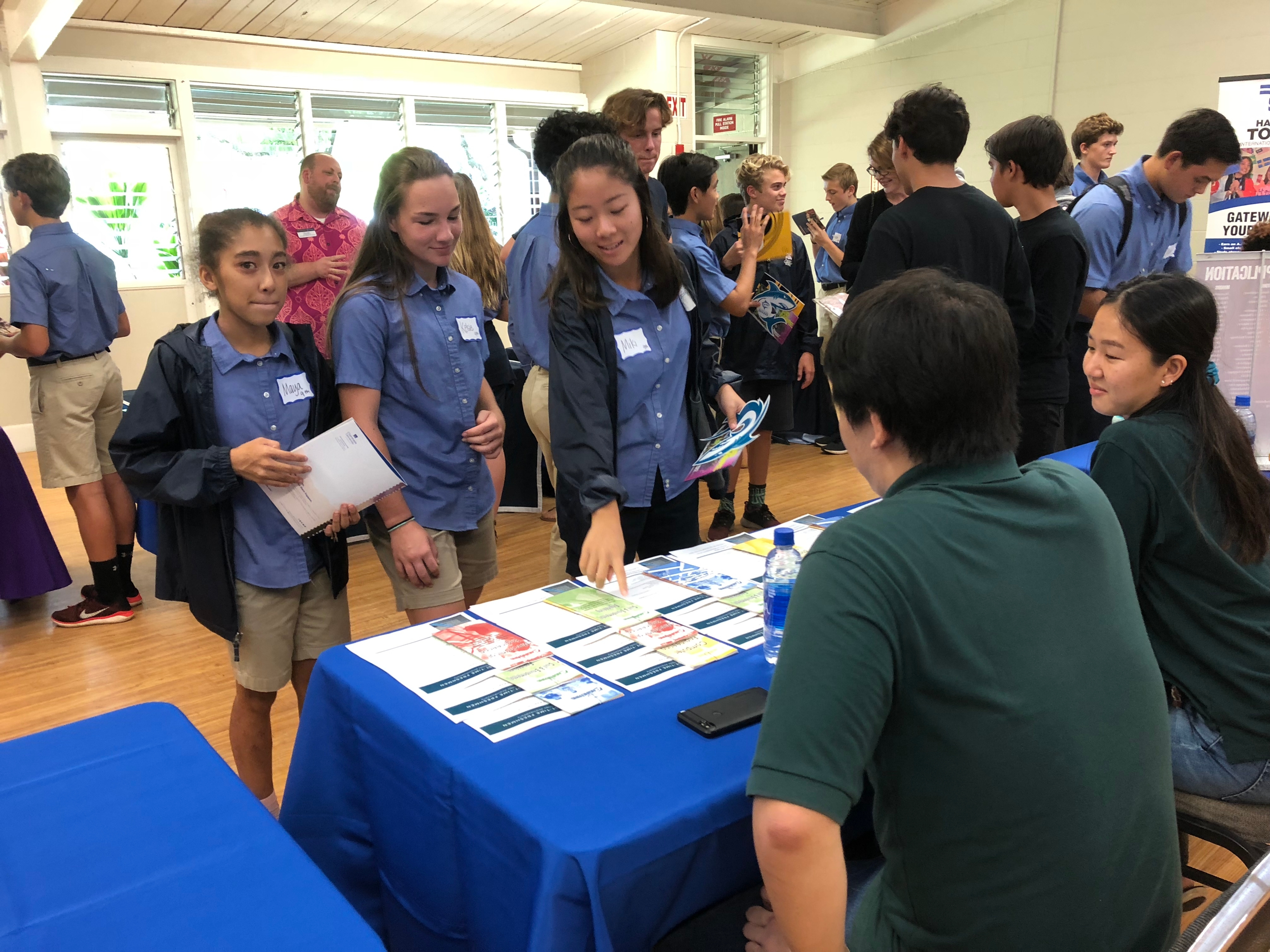 In 10th grade, the questions start to get a little more practical, like "How much does college cost?" And maybe they begin to realize that every grade on their transcript matters and may affect merit scholarships. By the time a student is a Junior they probably have a short (or long) list of schools they are interested in and the questions are ever more meaningful, like, "Can I get credit for the 10 years of Latin I took at TCS?" Or, "Will there be work study opportunities for me to help pay my college costs?" All of these questions, from the college-life questions to the important financial and academic decisions ahead, are important for our students to ask before they start an application.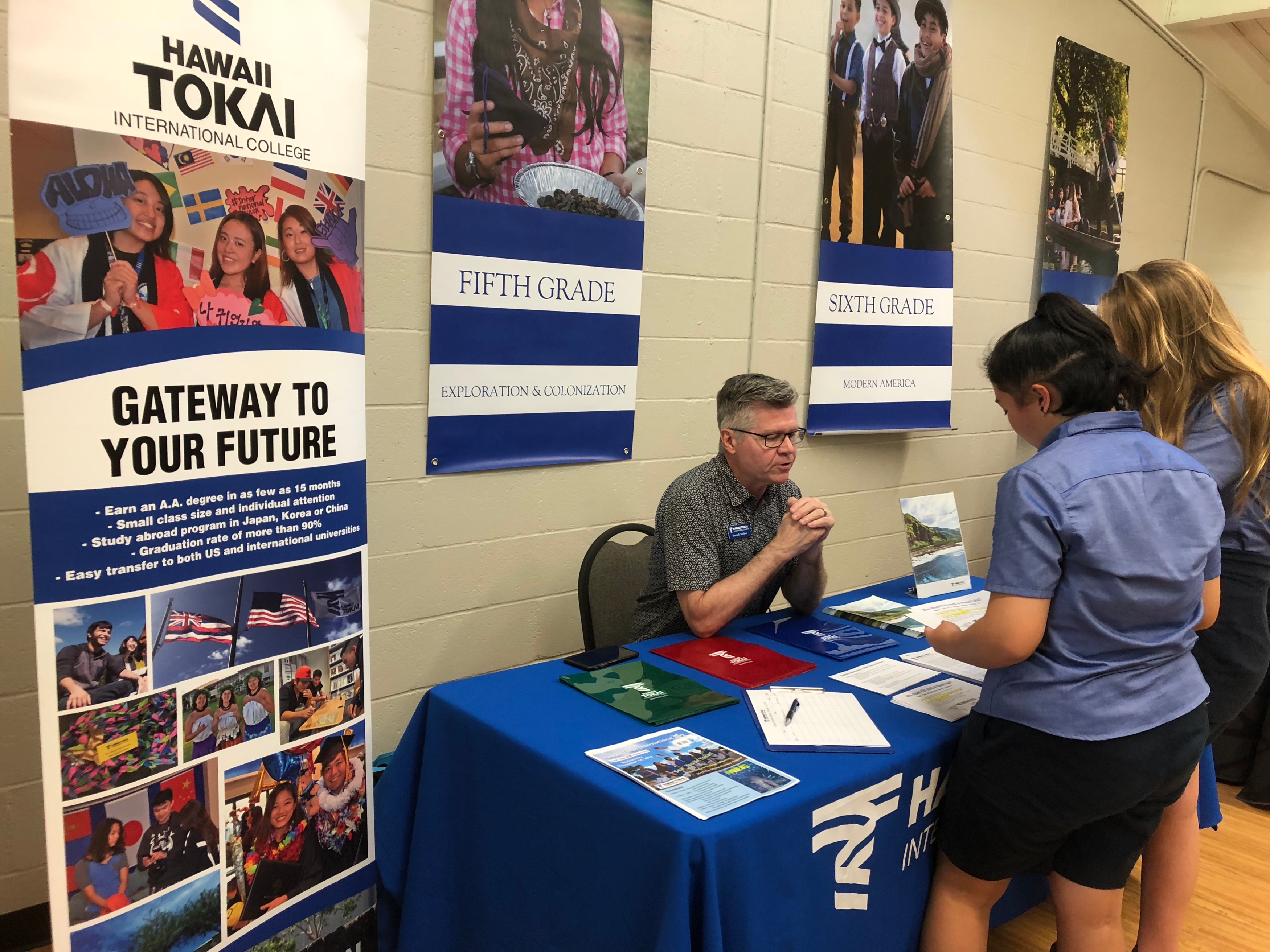 Each fall, approximately 200 colleges and universities attend the NACAC College Fair in Honolulu. We recommend that all students plan to attend this fair in their Sophomore or Junior year. While in Hawaii, many mainland schools reach out to local high schools and request to visit the Juniors and Seniors. Talking with the college representatives is a fantastic opportunity for a high school student.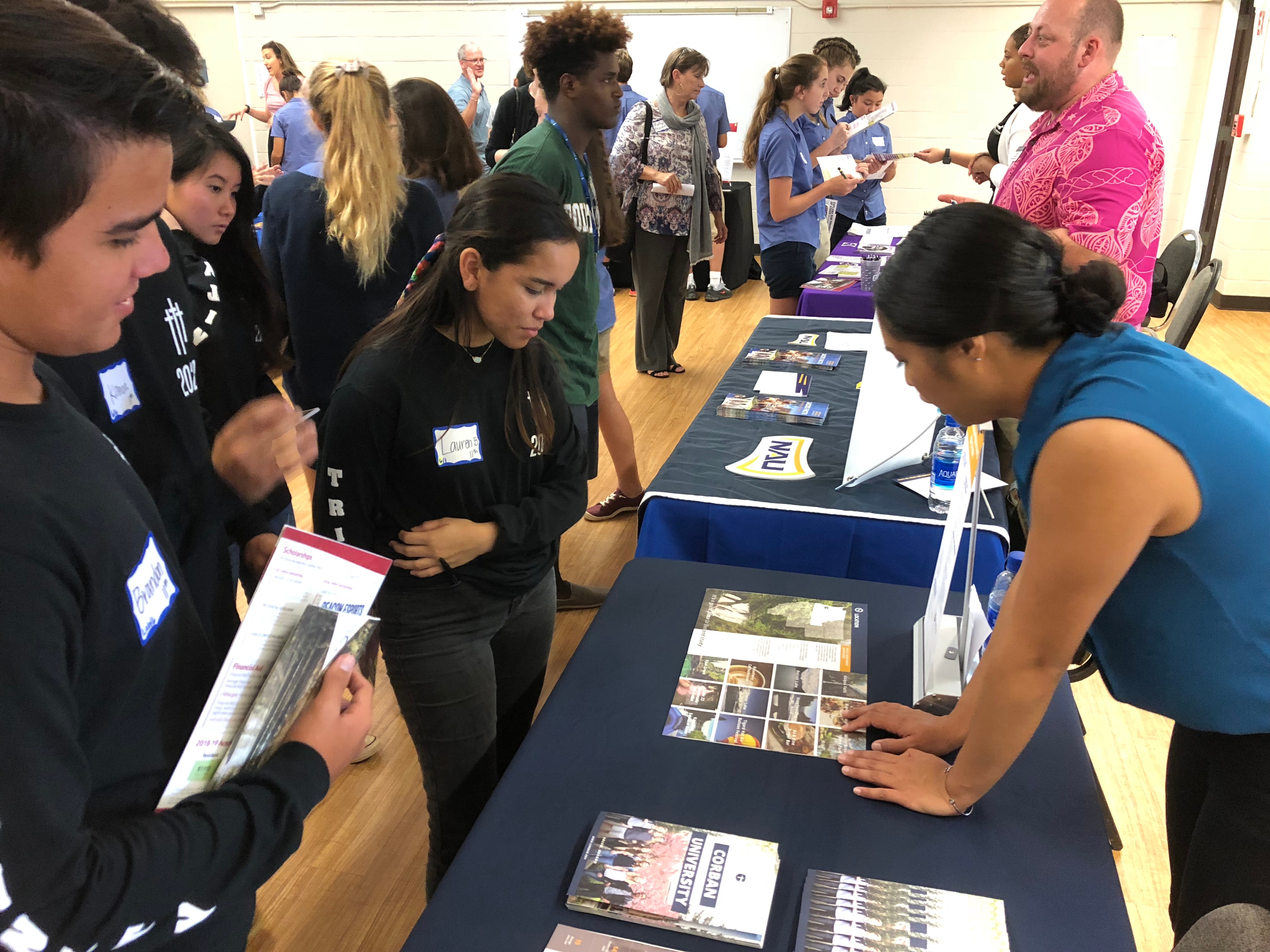 This year, we sought to bring colleges to our students by hosting our first college fair, TCS College Exploration, held last Friday afternoon, with 19 schools answering our call. The list of colleges and universities present included Grand Canyon University, Northern Arizona University, Trinity Western University*, Whitworth College, Corban University*, University of Hawaii West Oahu, George Fox University*, California Baptist University, University of Hawaii Manoa-School of Engineering, Washington State University, Chaminade University, Windward Community College*, Hawaii Tokai International College, Hawaii Pacific University*, New Saint Andrew's College*, Biola University*, Pacific Rim Christian University, and Pacific Lutheran University*. Students and parents were given an opportunity to approach the school representatives, begin asking questions, and collect college information. They were then able to meet with 6 schools in a small group format allowing for a more in-depth presentation and additional questions.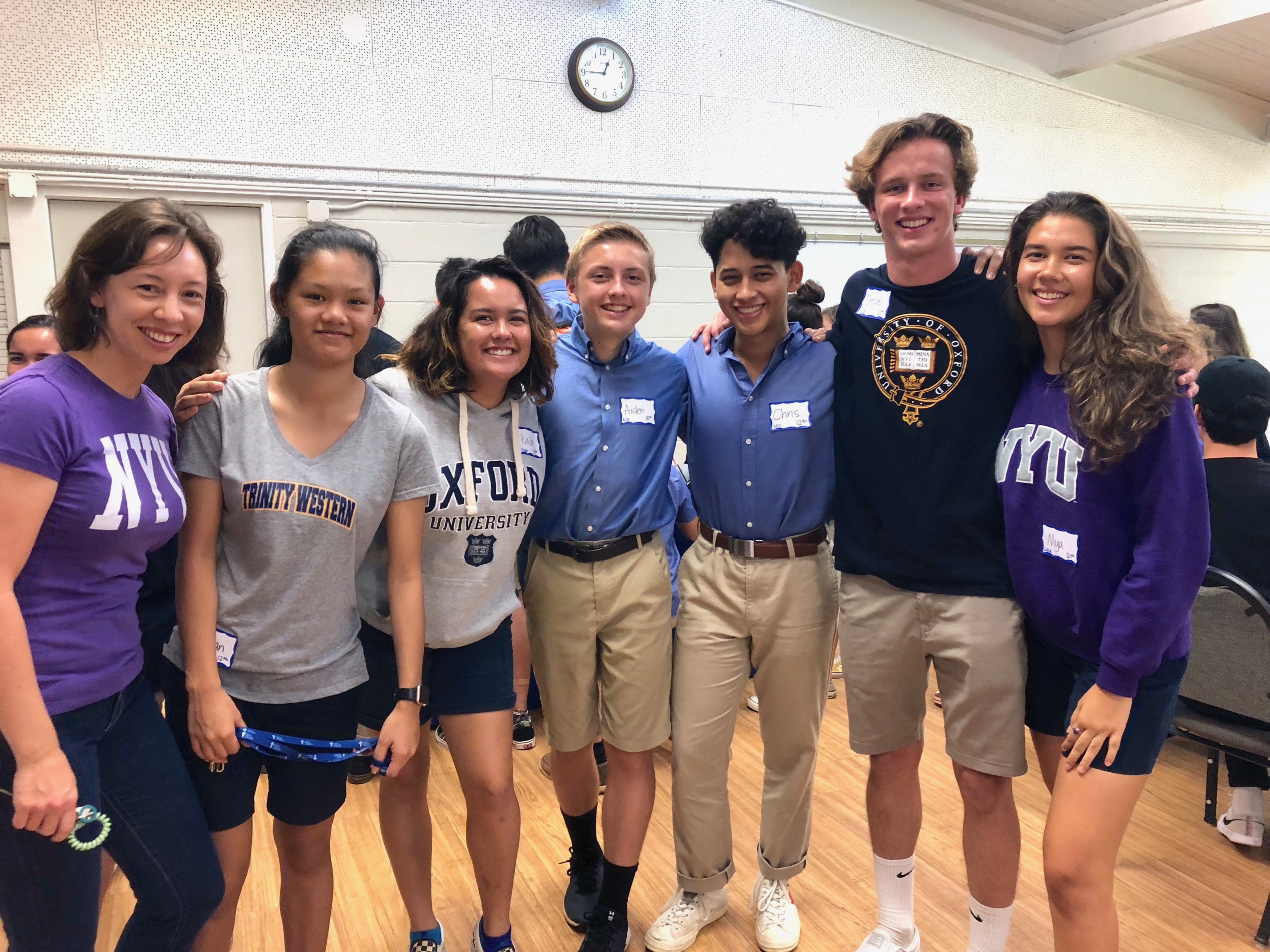 TCS is graduating a 7th senior class in May 2019. We are so excited for these students and the future God has in store for them, and we ask all our TCS ohana to pray for our students' futures. With the help of events like the TCS College Exploration, TCS is able to grow our students into the adults they are meant to be, and prepare for the years beyond TCS.
Listen to advice and accept instruction, that you may gain wisdom in the future.
Proverbs 19:20
* indicates schools where TCS alumni have attended or are currently attending.
October 22, 2018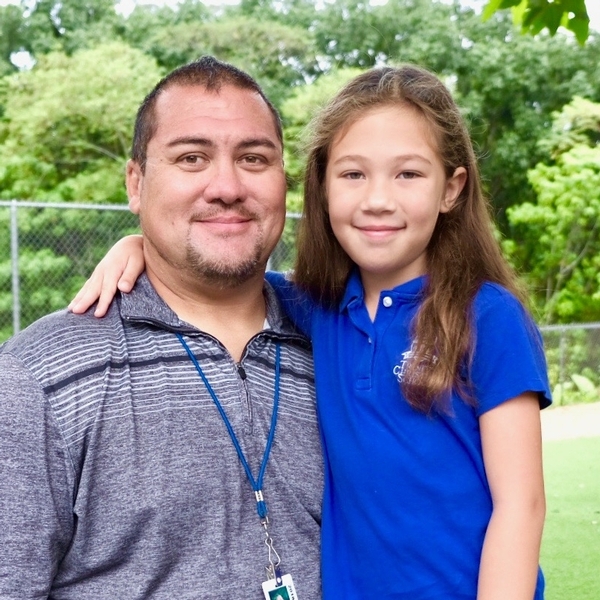 By Peahi Kapepa, TCS parent
When deciding to send my daughter to Trinity Christian School, I was very attracted to the school as a whole. First, for the obvious reasons that the Bible is taught and prayer and Christ are woven throughout everything the students do from playtime to resolving conflicts and problems.
Now, three years later, I've learned about the Classical Christian approach and its benefits as a natural progression of education. At first, it sounded strange to me. When it comes to things that seem complicated and fancy, I assume that it's something that it's not. My skepticism was proven right and wrong. Right, by learning what Classical Christian education is, I realized it is relatively simple and a common-sense approach that has been shown over time. And wrong, in that the American public education system has strayed far from what was working for so long. The "new" progressive method has "dumbed down" the basics of how children are taught.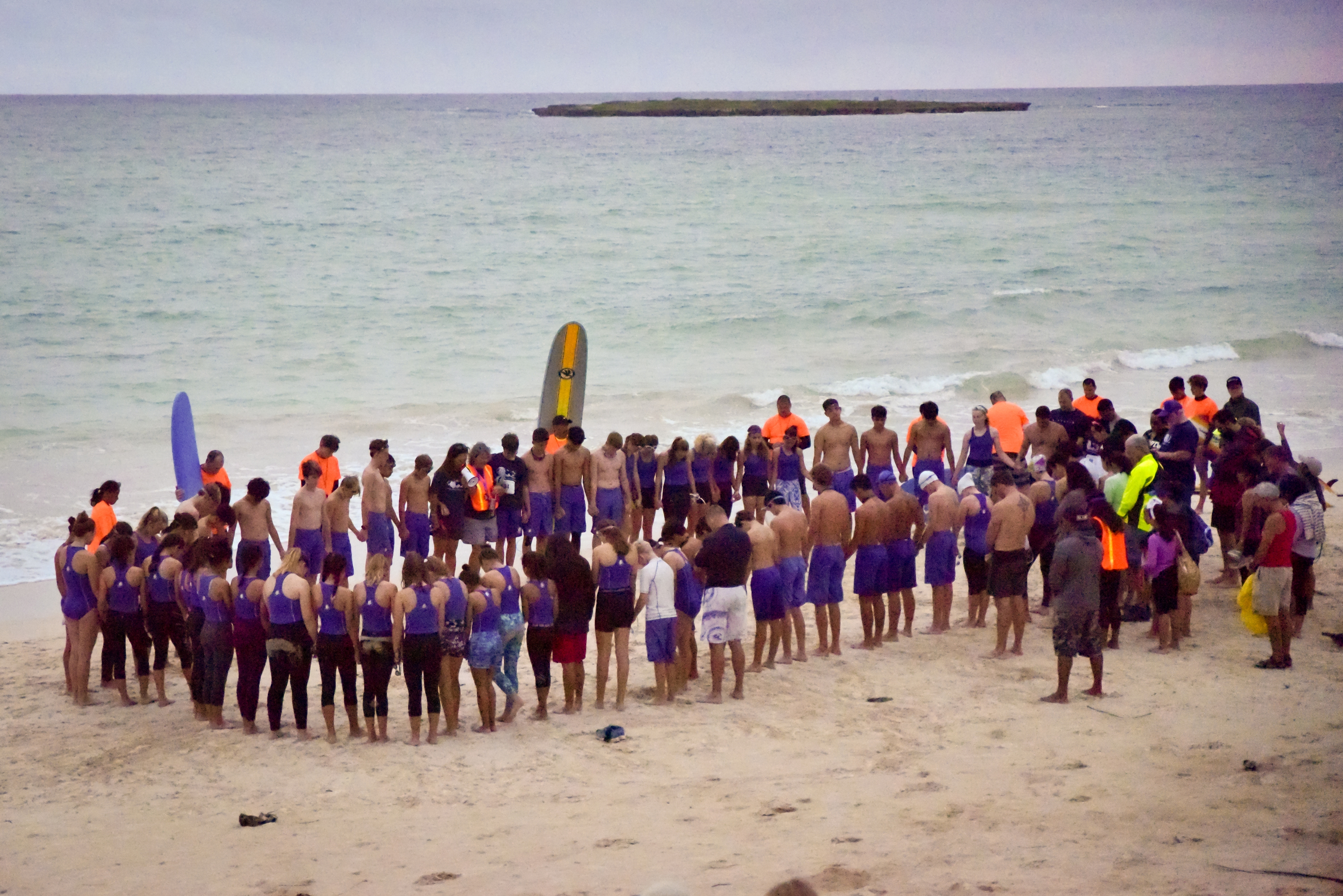 The Trivium is comprised of Grammar, Logic and Rhetoric stages but I've chosen to focus on the first part of the Trivium: Grammar. Not only is grammar taught but heavily emphasized in the classical format in K-6. Grammar is explained using the vehicles of song and chant which is invaluable to memorization. It's also fun and causes the kids to thrive in their early years. Instead of merely learning "grammar," students are learning all subjects from a logical perspective. It has been fascinating to see this at work in my daughter.
Another part of the grammar stage of the classical method that attracted me to Trinity is the focus on language. I was glad to find out that Hawaiian is taught in the first few years of Elementary school because my daughter and I are part-Hawaiian. I have taught her to first identify herself as a child of God, but it's important to me that she learn about her culture and the beautiful place we are blessed to live.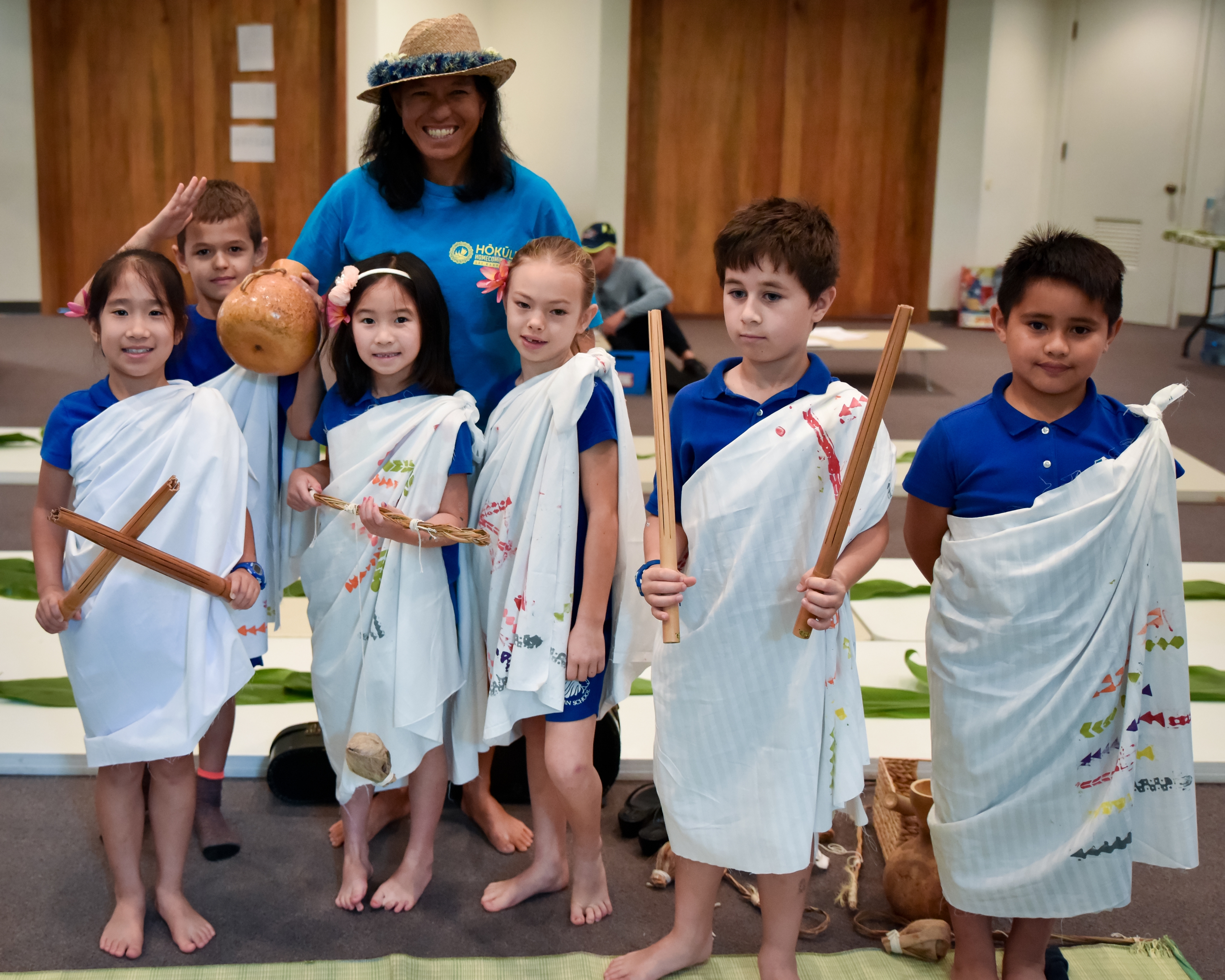 The other language subject that impressed me is that Latin is taught. My parents both studied Latin in high school and college, and I know how much they value the understanding it gave them. I look forward to my daughter delving into the subject.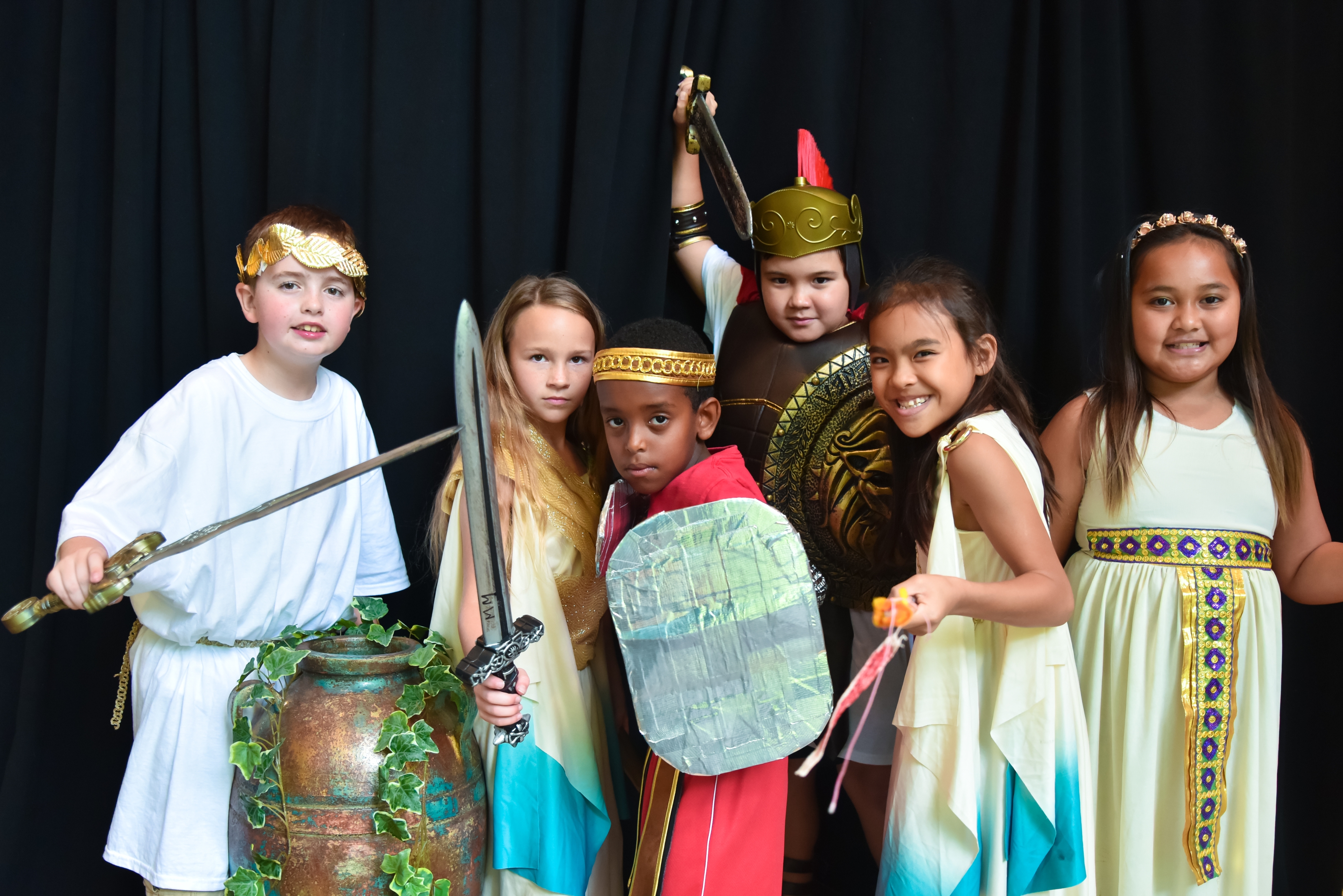 We are approaching our fourth year at Trinity, and I am absolutely sold on the classical Christian method of education. I've had the perspective of witnessing the school as a parent and as a teacher. I will testify to the value of classical Christian education and how my daughter has blossomed and excelled in this system. Our Christian family values are being reinforced at school. My daughter is receiving a superior education based on a proven record. It will continue to enhance her life after she graduates.